News
Conquering the 'Cardiac Steps' for the Blue Teapots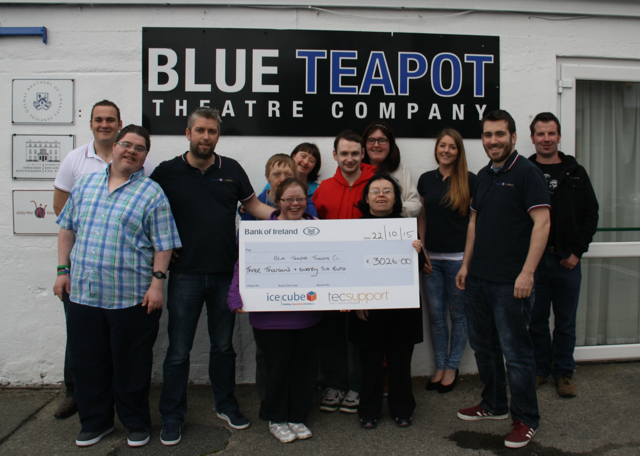 A team from Galway based company, ICECube and TecSupport, visited Blue Teapot Theatre Company in Munster Avenue, Galway this week, to present them with over €3000 they raised in their honor.
In the first weekend of October, five members of the ICECube and TecSupport team braved the Killarney Adventure Race – in which they cycled, kayaked and ran a 27km course through the scenic Killarney mountains and parklands. The highlight of the route was the infamous 'cardiac steps' – a long, steep, rocky climb up the side of Torc mountain.
Team members Brendan Cox (Claddagh), Melissa Johnston (Ballinasloe), Gavan O' Brien (Tuam), Gary Cox (Tourmakeady) and Liam Burke (Turloughmore) – trained for months in advance of the event in the company's own on-premise gym.
ICECube & TecSupport are regularly involved in initiatives that both improve the overall wellness of the team and also raise much needed funds for hard working charities. This challenge was no different. They set themselves a target of €3000 and by working as a team, managed to achieve success in reaching their goal.
The 'Teapots', as they are affectionately known, are a multi-award winning theatre company, performing arts school and outreach project for people with intellectual disabilities. The money raised by ICECube and Tecsupport will assist in funding various showcasing events in 2016 to help celebrate Blue Teapots 20th anniversary.
The ICE Cube and TecSupport team have a personal connection to the theatre group, as Jennifer Cox (a sister of Brendan Cox) is a member of the Teapots. So they have first hand knowledge the great work the Teapots do in improving the lives of people with intellectual disabilities and are proud to have been associated with the organisation for this fundraising event.